EOS Additive Manufacturing allows direct integration of conformal cooling channels in moulds and mould inserts.
In injection moulding, the cooling time of a finished product takes up to 70 per cent of the cycle time in series production. This wastes a lot of time because in conventional mould making, temperature control or cooling channels can only be drilled in a straight line. Critical hotspots often remain out of the coolant's reach – and therefore cannot be mitigated.
Using Direct Metal Laser Sintering (DMLS) by EOS however makes it possible to integrate optimized, conformal cooling channels into the mould during the production process. This allows for faster and more even heat dissipation. It reduces thermal stress in the mould and prolongs service life. The plastic product quality and dimensional accuracy of the parts is also increased as well as reducing warpage. In addition, this also allows for a drastic reduction of cycle times.
Here are some illustrative examples:
LBC focuses on mould making using innovative laser technology, and adapts parts or the entire process chain to the customer's operations. Using DMLS, the company was able to optimise the thermal performance of a mould insert. This reduced cycle time by 55 per cent from 90 to 40 sec., corresponding to a productivity increase of 125 per cent per annum. The 3,250 Euro investment was recouped within two months, and the company was able to save almost 20,000 euro per annum.
In another application, LBC was able to reduce cycle time by two-thirds, using a DMLS-manufactured core to ensure effective cooling of critical hotspots.
Es-Tec increased the mould productivity of a blow die with a build time of 50 hours by 20 per cent.
SIG Blowtech was able to lower cycle times from 15 to 9 sec. For a 4-bottle blow die with DMLS-manufactured inserts, the company now has achieved a 75 per cent increase in productivity.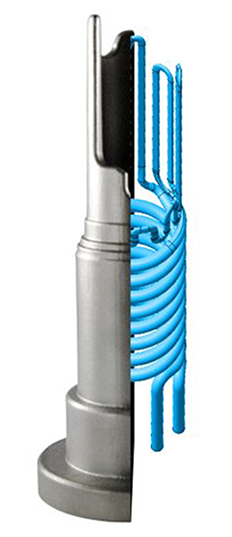 Tool insert for injection moulding made from MaragingSteel MS1