Sigma Labs to Unveil PrintRite3D INSPECT® 3.0 at Formnext 2017
Sigma Labs has developed and released its next generation PrintRite3D INSPECT® In-Process Quality Assurance™ (IPQA®) software – Version 3.0. This release includes software enhancements and hardware upgrades and completes our migration to a distributed web-based application. Our newest release contains the industries most advanced set of IPQA® analytics algorithms that enable future generations of closed loop controllers. The PrintRite3D INSPECT® 3.0 software is now available for Multi-Machine Single laser systems, providing customers with one portal for monitoring their entire AM lab. Single and multi-machine, multi-laser configurations are in development with our OEM partners and as third-party add-ons.
PrintRite3D INSPECT® 3.0 software features 3D Thermal Mapping and Imaging tools as well as our exclusive TED™ (Thermal Emission Density™) powered advanced analytic engine designed to meet the needs of users focused on research, development and qualification-level activities. The researcher tools utilize raw sensor feature data without the need for baseline comparisons providing users the data and framework for limitless analysis. Quantitative, in-situ thermal history maps can be used to validate modeling and simulation (M&S) results prior to process characterization studies, process qualification & validation phases, as well as in conjunction with design optimization evaluations.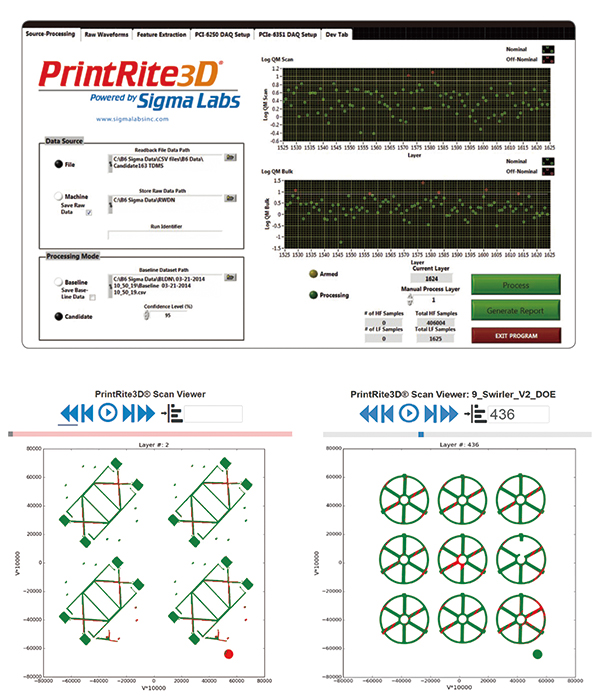 FEATURES :
Part by part, layer by layer real-time melt pool TED™ data
High resolution 3D thermal part map
No baseline data sets required
Client-server hardware architecture with a single viewing portal for monitoring multiple machines across an entire manufacturing organization
BENEFITS :
Enables rapid qualification of metal AM
 Confirms modeling and simulation predictions using high resolution thermal history data
 Documents key process input variations on geometry
 Accelerates parameter optimization for optimal thermal conditions
 Allows design optimization to eliminate high stress concentrations